Experienced Bourne Roof Cleaning & Pressure Washing Professionals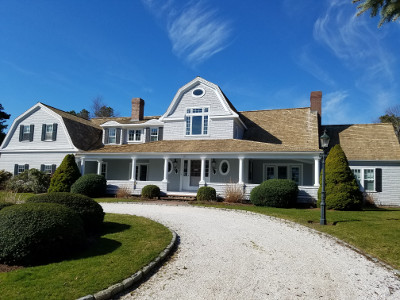 Looking for a professional to help you with your Bourne roof cleaning company service needs? This is one of those tasks that few people think about until they are in dire need. This is often simply because they are unaware of the repercussions this could ultimately have on your roof.
A dirty roof is about more than just looking unsightly. This is also about protecting your roof from algae, lichens and living organisms that feed off your shingles. In order to stop this from occurring, you need to be able to rely on the experts here at A to Z Softwash to get the job done.
Professional Roof Cleaning in Bourne
As the local leading service provider for roof cleaning services in Bourne, MA, we would be happy to also help you by offering you the information that you need. This includes helping make you aware of the benefits there are for finally moving forward with this service. Some of the other information that you need to know includes:
First and foremost, you should be able to have a house you are proud to call home. Yet with unsightly black streaks staining your roof and becoming the focal point of your home, how is that possible?
You would probably also like to make a good first impression, as well as enhance your curb appeal. Whether it is your home or your business, cleaning your roof can help make that possible.
Did you know that you could actually have your insurance policy canceled because of this? The stains on your roof are considered risks, and insurance companies do not like risks.
Your home is also not as energy efficient as it should be. This means that you are running up your utility bills and causing your home to be not as Eco-friendly as it should be.
Bourne Exterior Softwashing Pros
What you should also be aware of is that we offer the best in softwashing services as well. This is a gentler approach to cleaning your exterior surfaces.
Too often, high velocity pressure washing in Bourne, MA can actually cause damage depending on the surface being cleaned. We can safeguard against that by utilizing this approach when needed.
If you are looking for a reliable Bourne roof cleaning or pressure washing professional then please call 508-209-7795 or complete our online request form.