Expert Plymouth Roof Cleaning & Pressure Washing Services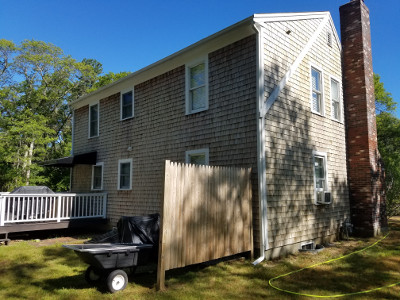 One of the responsibilities that comes with being a homeowner is finding a reliable Plymouth roof cleaning company. In fact, even business owners need to address this service need. So you will be glad to know that here at A to Z Softwash we work with both residential and commercial clients.
Your roof is the most important aspect of your home so it is essential that you keep it in tip top shape. Cleaning it costs a lot less than having to replace it. Believe it or not, if your roof remains dirty with black algae streaks on it, you could end up needing a new roof before you know it.
Roof Cleaning in Plymouth, MA
What many people ask us is why it is so important to get professional roof cleaning in Plymouth, MA. Some of what you should know include:
Obviously, this makes your home look better. Improve the curb appeal and regain your sense of pride in how your home looks.
Moss, algae and lichens have no place on your roof. Yet if you have not had your rooftop cleaned in a while, you can bet they are residing up there.
Because asphalt eating algae poses a threat to the structural integrity of your roof, your insurance company may drop your policy. Demonstrate to your coverage provider that you are proactive with the care and maintenance of your roof by getting this cleaning service done.
Roof cleaning is not something that you can do yourself. Not only is it a dangerous task to try to DIY, you do not have the needed equipment to get the job done.
Plymouth Exterior Softwashing Pros
Softwashing is a technique used to wash the exterior of your home without the threat of damaging anything. Too often, high pressured power washers damage aspects of your home such as shingles or windows. Using a milder pressure of water paired with a cleaning agent, you get a superior level of clean.
Exterior Window Cleaning in Plymouth, MA
You will be glad to know that A to Z Softwash is the same name you can rely on for exterior window cleaning services too. We use a safe but effective approach to providing your home or business with clean windows.
With any cleaning service that you need, we don't just aim to meet your expectations we strive to exceed them. We can clean up your exterior and maximize the property value of your home, even if you are not planning on selling. It's about curb appeal, performance and having home ownership pride again.
If you are looking for a reliable Plymouth roof cleaning or pressure washing professional then please call 508-209-7795 or complete our online request form.