Pawtucket, Rhode Island Power Washing Services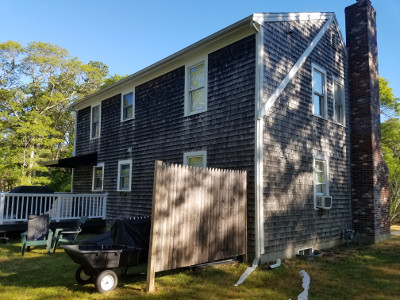 In search of the perfect Pawtucket Power Washing company?
Well then you have come to the right place because the A to Z Softwash name just happens to be the top choice in the area. There is a reason we have such a high rate of repeat and referral business. Our Cape Cod roof cleaning and power washing experts work hard at what we do so that each and every customer gets the best service possible.
When was the last time you took care of your exterior cleaning? Has it been a while? You're not alone. This is the type of task many people keeping pushing further down their to-do list.
The problem is that it will begin to catch up with you. The minimal investment required for cleaning will be replaced for a high cost of repairs and quicker replacement of materials like siding or roofing. Let us take care of your Pawtucket power washing needs now so you don't have major problems later.
Established Local Business Since 2012
Residential Roof Cleaning & Power Washing
Safe & Effective Exterior Cleaning Service
Roofs, Sidewalks, Driveways, Fences & More
Cedar Restoration & Tile Cleaning
Exterior Power Washing in Pawtucket
We can begin right now. To get started only means you letting us give you a quote. When you call us for your professional Pawtucket Power Washing services you will be presented with competitive rates and a high level of customer service.
Once you see the quality work we do on your residential home, you won't believe your eyes. Call us today for professional power washing service in Pawtucket.
Pawtucket Roof Cleaning Service
One of the major responsibilities of being a homeowner is being able to take good care of the structure, especially the rooftop. One of the most important tasks is properly cleaning the roof. For the finest in Pawtucket roof cleaning, the name to trust is A to Z Softwash.
We'll make sure the debris, stains, and any mildew or algae is properly removed from your roof surfaces. We use techniques that don't harm your roof and are completely safe.
If you are looking for a Pawtucket, RI roof cleaning and exterior softwashing service, then please call 508-209-7795 or complete our online request form.