Pocasset, MA Roof Cleaning & Pressure Washing Services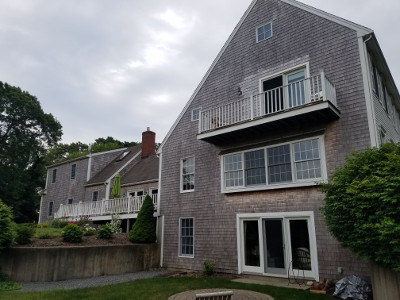 When you need professional roof cleaning and exterior pressure washing in Pocasset, call A to Z Softwash for superior service. Part of how we became a leader in the industry comes from the fact that we believe in going above and beyond, which we also believe should be the industry standard.
For instance, if we can't leave a noticeable difference once we are finished with your roof cleaning and pressure washing work, there's no point in being in this line of work at all. Yet too many homeowners are faced with this type of workmanship when they call someone in.
Our team will leave you with a surface so clean it looks as good as new. Give us a call today to schedule service and we'll show you why so many will only choose A to Z Softwash in Pocasset.
Roof Cleaning & Soft Washing
The problem with a roof is that if you don't address the cleaning needs, you could be putting it at risk for early decay. Those dark streaks and spots that you see on the roof are a type of algae that actually consume the roof materials. Obviously, it is in the best interest of the homeowner to remove it.
However, not just any approach can be taken with roof cleaning. You need a professional Pocasset roof cleaning technician to use a safe method of removing the dark stains. This is where we come in at A to Z Softwash. We offer a superior level of clean which will make your rooftop look amazing again while removing all the unsightly stains and damaging organisms.
Exterior Pressure Washing Service
All of your exterior surfaces will need to be cleaned at some point. Whether it's vinyl siding, brick, wood, stucco, concrete, rock, or asphalt, cleaning helps the materials to last longer. Of course, it really keeps your home looking great too. You'll be absolutely amazed at the difference our team can make when you hire our Pocasset pressure washing contractors.
If you are looking for a Pocasset, MA roof cleaning and exterior soft washing expert, then please call 508-209-7795 or complete our online request form.