Is Soft Washing Really Safer For Cleaning Your Roof?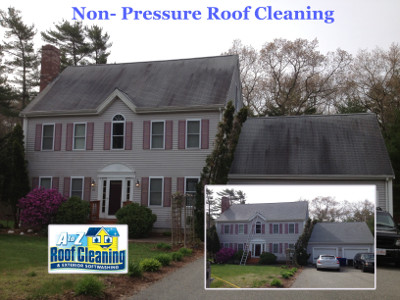 Your gutters are an important component of your Cape Cod home, though many homeowners let that importance go over their heads. People don't seem to consider their gutters until it rains and they help keep the porch from turning into a waterfall.
Pressure washing is used as a general term for any method of exterior cleaning. However, if you're not careful, the company that you hire may use the same cleaning technique for all of your outside surfaces.
Technically, there's a difference between power and pressure washing - and it's mainly about the water temperature. Both of these cleaning methods use a stream of high-pressure water to blast away dirt and other substances from outdoor surfaces for your home or business.
When it comes to more delicate materials, though, pressure washing isn't the preferred method. Soft washing is the more appropriate cleaning technique to use for surfaces like asphalt shingles.
What Exactly Is Soft Washing?
The first thing that you should know is that it's critical to only work with a company that uses soft washing for jobs like roof cleaning. Any reputable company knows it's essential to take good care of delicate materials using a safer cleaning approach.
Soft washing is a cleaning method that uses cleaning solutions and low-pressure water to clean your surfaces. The cleansers do most of the work, and the water is used to rinse it all away.
This is an effective cleaning method and one that's better suited for materials like asphalt shingles, stucco, and softwoods. It's the ideal solution for cleaning away stubborn contaminants, such as:
Moss
Lichen
Algae
Mold
Bacteria
Fungus
Not only is soft washing effective for removing these substances, but it also eradicates them long-term. Since this approach to cleaning will destroy growth like algae at a molecular level, it means there won't be any immediate regrowth.
Choosing The Right Team For Your Exterior Cleaning
If you're ready to get started with safe but thorough exterior cleaning services, contact our pros at A to Z Softwash. We're a premier cleaning company with superior customer service skills.
We take this line of work seriously, and we're honored to be the preferred power washing company. You'll love the final cleaning results we're able to deliver. We offer a wide variety of cleaning services for your residential property:
Fence Cleaning
House Washing
Window Cleaning
Gutter Cleaning
Roof Cleaning
We've worked hard to build the reputation we have and are proud to be a staple in the local community. You can feel confident about the level of superior cleaning we'll deliver to you every time.
Please don't take chances when it comes to cleaning - is it worth possibly damaging your roof to get it clean? Give A to Z Softwash a call and find out for yourself why we're the preferred cleaning crew in Cape Cod and surrounding areas.
If you are looking professional pressure washing or roof cleaning in Cape Cod, MA, please call 508-209-7795 or complete our online request form.