It's Beginning to Look A Lot Like Christmas - Or Could Be!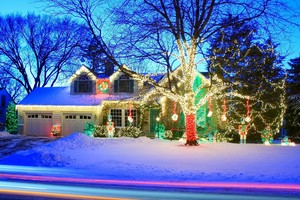 It seems just about everyone loves the look of holiday lights. However, not everyone loves the task of installing those lights. That doesn't mean you have to settle for admiring everyone else's home while yours remains bare. More and more homeowners are turning to the professionals to take care of Christmas light installation.
Homeowners just don't have the time they once did to invest into getting lights untangled and then putting them in place. Now, you can get the holiday lighting you've always wanted without lifting a finger, other than to call a pro to handle the work.
Trust the Experts to Handle Your Holiday Lights
Professional holiday light services taken care of by a pressure washing company? Trusting experts who already work to beautify your home's exterior with designing and installing holiday lights just makes good sense.
What you should be aware of when it comes to this type of service:
The first step should be a free consultation. This gives you the opportunity to learn more about what the company has to offer and convey the look you hope to create.
Learn about the options for decorating. For instance, here at A to Z Softwashing, we offer beautiful LED lighting. It delivers crisp, clear light but in a money-saving, energy-efficient manner.
Find out if maintenance and removal is included, or will be extra. You want to be able to rely on your professional team throughout the entire holiday season, as well as handle the breakdown once the holiday is over. Don't find out the hard way that's not included in the price you were quoted.
What better way to save time than to let someone else take care of the lighting for you? Even better, what better way to avoid spending time out in the dark cold trying to properly hang Christmas lights?
Plus, you don't have to put your safety at risk when you can let a professional do the ladder climbing. We're already used to it while carrying out tasks like gutter cleaning, so using this method to hang lights isn't any different.
Dazzling Lights & Beautiful Results
Illuminate your home or business this year by showing your Christmas cheer. We have packages starting at under $500 and can make your exterior become the envy of the neighborhood.
Focus your time this holiday season on gift buying, decorating your interior, and spending time with your family, and let us take care of sprucing up the outside. Don't waste your time with Cape Cod Christmas light installation this year when you can call A to Z Softwash for professional service.
If you would like an estimate for Christmas Lights installation in Cape Cod, please call 508-209-7795 or complete our online request form.